ORGANIZATION AND HUMAN RESOURCES
BOARD OF MANAGEMENT
List of BOM members
| No. | Full name | Position | Number of shares owned at the end of the period | Share ownership rate at the end of the period |
| --- | --- | --- | --- | --- |
| 1 | Mr. Van Tien Thanh | General Director | 30,000 | 0.005667% |
| 2 | Mr. Tran Chi Nguyen | Deputy General Director | 1,600 | 0.000302% |
| 3 | Mr. Le Ngoc Minh Tri | Deputy General Director | 1,600 | 0.000302% |
| 4 | Mr. Nguyen Tuan Anh | Deputy General Director | 0 | 0.000000% |
| 5 | Ms.Nguyen Thi Hien | Deputy General Director | 0 | 0.000000% |
| 6 | Mr. Nguyen Thanh Tung | Deputy General Director | 5,003 | 0.000945% |
| 7 | Mr. Dinh Nhu Cuong | Kế toán trưởng | 52,900 | 0.009992% |
Changes in BOM
There were no changes in BOM of PVCFC in 2021.
HUMAN RESOURCE REPORT 2021
Overview of human resources
As of 31 December 2021, the total number of employees of PVCFC is 1,022 employees. The Company's labor structure by functional division, gender, term of labor contract and professional qualification is shown as follows:

PVCFC engineers were inspecting machinery at Ca Mau Fertilizer Plant
By term of labor contract
By professional qualification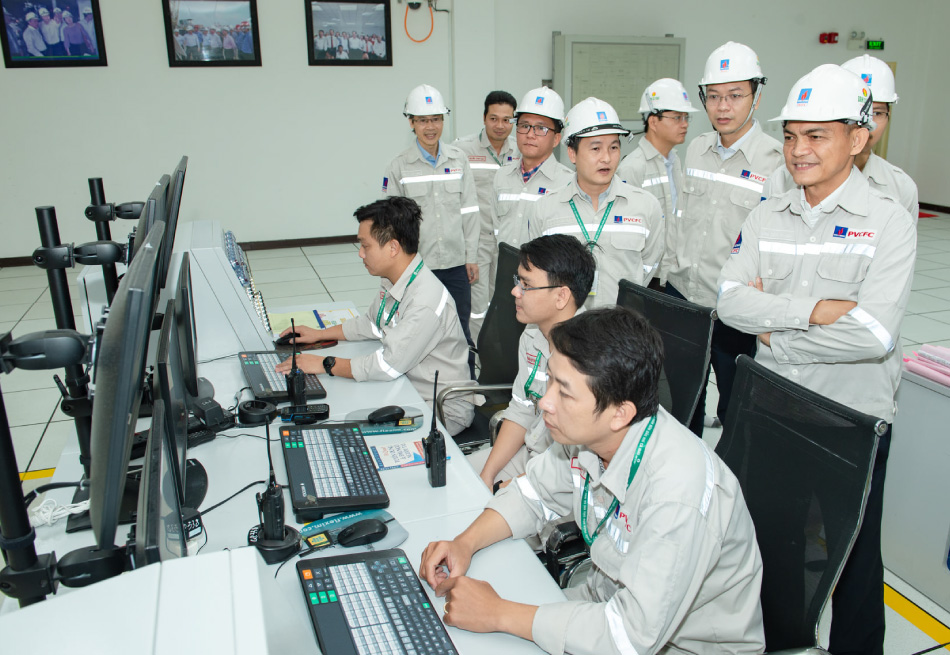 General Director was checking operation at central control room of Ca Mau Fertilizer Plant
In 2021, the Company supplemented personnel for divisions, units and branches; therefore, the number of personnel increased by 50 people compared to the end of 2020, who were additionally recruited for the direct production force of Ca Mau Fertilizer Plant and Business Division. The staff receipt, allocation, appointment and re-appointment as well as the staff planning, assessment and classification have been carried out strictly in line with the regulations and processes, based on the actual needs. The appointed staff have well promoted their roles and tasks in new positions, contributing to the construction and development of the Company.
The Company has well implemented employee policy and collective labor agreement. The Company also strengthened training for management levels, regularly retraining for employees of departments, updating professional knowledge to enhance qualification and skills in operation - maintenance as well as to raise the solidarity among the Company's employees, meeting the production and business requirement.
Improvements in organizational structure, policies and management
In 2021, the Company made a number of improvements in terms of compensation and benefit under human resource development strategy, to be specific, reviewing regulations on salary and bonus payment for the positions of area management and customer management of Business Division, preparing draft of amended regulations on management of salary, bonus and welfare, adjusting the Company's policy on employees, etc.