REPORT AND ASSESSMENT OF BOM
BUSINESS PERFORMANCE IN 2021
The year 2021 has ended in the heavy impacts of Covid-19 pandemic to the global economic activities. In Vietnam, Covid-19 epidemic broke out from the end of April 2021 in many localities together with a new variant that was fast spreading, dangerous and complicated; accordingly, directives on social isolation for pandemic prevention have caused serious effects to supply chain, production and business of enterprises. Facing the complicated developments of socio-economic environment, PVCFC has strived to successfully implement all assigned objectives, ensuring effective prevention of Covid-19 pandemic, thanks to proactively overcoming difficulties and taking advantage of favorable conditions.
Performance of production and business targets
No.
Items
Unit
Implemented 2020
2021
Rate
Planned
Implemented
Comparison (%)
A
B
C
1
2
3
4=3/2
5=3/1
I
Production output
1
Products
-
Urea converted
Thousand tons
934.77
875.49
898.56
103%
96%
In which, Urea-based products
Thousand tons
35.51
74.30
75.25
101%
212%
-
NPK
Thousand tons
47.87
48.19
101%
2
Consumption
-
Urea converted
Thousand tons
973.39
765.87
755.50
99%
78%
Urea-based products
Thousand tons
35.15
62.65
68.42
109%
195%
-
NPK
Thousand tons
47.18
38.39
81%
-
Trading of imported fertilizers
Thousand tons
171.48
150.00
161.07
107%
94%
II
Consolidated financial indicators
1
Total revenue
VND billion
7,700.33
9,168.32
10,041.67
110%
130%
2
Profit before tax
VND billion
716.53
924.45
1,956.27
212%
273%
3
Profit after tax
VND billion
662.45
867,50
1,826.12
211%
276%
4
Obligations to State budgets
VND billion
87.09
98.85
222.41
225%
255%
III
Parent company financial indicators
1
Total revenue
VND billion
7,663.86
9,132.59
10,056.63
110%
131%
2
Profit before tax
VND billion
714.83
920.66
1,950.55
212%
273%
3
Profit after tax
VND billion
661.56
864.57
1,821.83
211%
275%
4
Obligations to State budgets
VND billion
80.24
91.87
196.77
214%
245%
5
Pre-tax ROE
%
14%
17%
37%
212%
273%
6
Investment value
VND billion
112.89
96.84
72.58
75%
64%
Notes: (*) Targets for 2021 were implemented according to PVCFC's Disclosure No.2064/PVCFC-IR dated 27 December 2021. These targets were adjusted to replace the production and business targets approved in Resolution No.854/NQ-PVCFC dated 27 April 2021 at the Annual General Meeting of Shareholders 2021.
Comment:
Performance
All targets, including both consolidated targets and Parent Company's targets assigned by GMS have been exceeded:
Production output reached
Production output reached 898.56 thousand tons, reaching 103% of the plan, 96% higher than the same period in 2020. The Company has pushed new product development based on Urea and NPK with an output of 75.25 thousand tons and 48.19 thousand tons, respectively, both exceeding 1% of the plan.
Urea consumption volume reached 755.50 thousand tons, completing 99% of the plan and equal to 78% of the same period in 2020. Consumption was lower than the same period due to Covid-19 breakout from April 2021 and social isolation which limited good shipment. Self-trading products reached 161.07 thousand tons, completing 107% of the plan and equal to 94% of the same period in 2020.
Total consolidated revenue reached
Total consolidated revenue reached VND 10,041.67 billion. This is the first year that the Company's revenue reached more than VND 10,000 billion with constant efforts in consumption as well as benefiting from selling price increase.
Consolidated profit before tax was valued at
Consolidated profit before tax and Parent company's profit before tax were valued at VND 1,956.27 billion and VND 1,950.55 billion, respectively. This is the highest profit ever of PVCFC thanks to increase in revenue, the Company implements activities to optimize savings, reduce savings, and is flexible in management activities.
ENVIRONMENTAL AND SOCIAL RESPONSIBILITY REPORT
Social responsibility
Apart from social security programs on building community facilities, PVCFC has actively supported and donated VND 28.14 billion to Covid-19 prevention and control activities including VND 5 billion to Covid-19 Vaccine Fund; giving medical supplies and equipment for health facilities and localities worth VND 20.64 billion; donating VND 1 billion to take Ca Mau people home; supporting Covid-19 Vaccine Fund of Ca Mau province with a total value of VND 1 billion; giving VND 500 million to help farmers in the Mekong Delta to overcome challenges caused by Covid-19 pandemic.

Implement the "together we share" program in Southwestern and Southeastern Regions-Central Highlands, accompanying local people to overcome difficulties and consequences of Covid-19 pandemic, helping farmers recover agricultural production activities.

PVCFC's trade and worker unions have organized many meaningful programs and activities under Ca Mau fertilizer brand, culture and identity such as renewal program to celebrate the 10th anniversary of the company, participation in Petro Vietnam-Ca Mau 2021 Marathon themed "Future Run beyond Reach", folk cake festival themed "Delicious Dishes-acts of kindness during pandemic", Zero-dong meal program to support people return Ca Mau province.

From 8 December 2021, some employees in housing area have been found to be positive for Covid-19, Covid-19 Prevention and Control Board has coordinated with Ca Mau Center for Disease Control and Prevention (CDC) to conduct rapid Covid-19 tests, provide guidelines on Covid-19 quarantine and isolation, health care for workers to quickly control the disease.

Assessment of Board of Management on environmental criteria
Security, safety, environment and fire prevention: the Company always strictly complies with regulatory requirements and in accordance with ISO 14001:2015 standard to ensure environmental compliance. Waste sources of plants are closely monitored with waste minimization and quality control in accordance with environmental permitting regulations before being discharged.
Apart from conducting periodical environmental monitoring to ensure compliance with regulations on wastewater and emission quality, the Company also installs automatic monitoring systems to continuously monitor wastewater and emission results online, and transmitting the data to the Ca Mau Department of Natural Resource and Environment with no environmental parameters exceeding the permissible limit. Besides, solid wastes (daily waste, ordinary industrial solid waste, hazardous waste) are classified, collected and handled pursuant to regulations.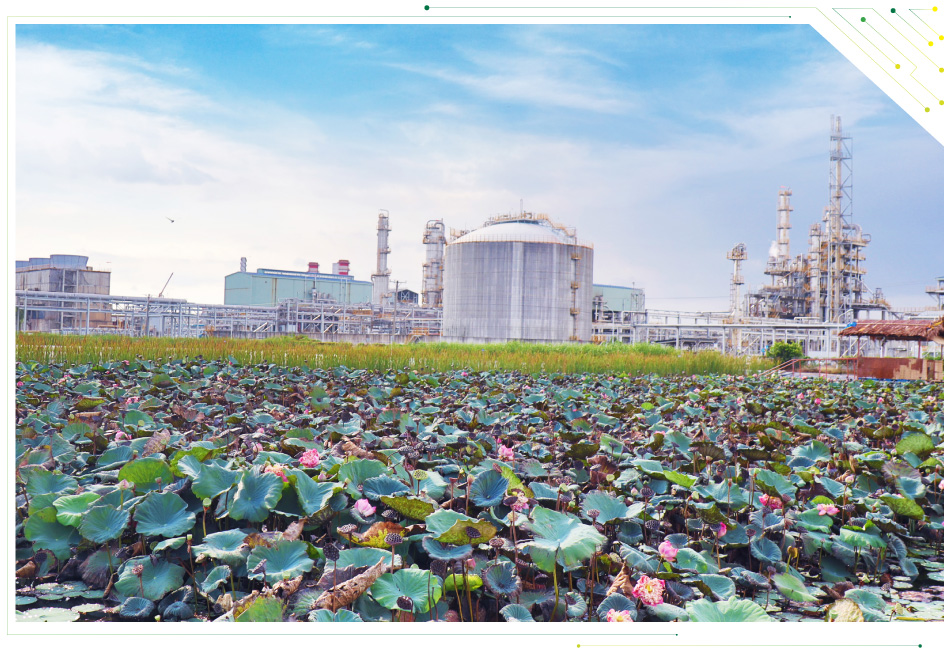 Lotus pond for wastewater treatment in Ca Mau Fertilizer Plant
PRODUCTION AND BUSINESS PLAN FOR 2022
PVCFC continues to face difficulties and challenges in 2022, to be specific, complicated Covid-19 pandemic with speedy spread of new variants affecting the global supply chain; conflict between Russia and Ukraine causing negative effect to the global financial market, highly increased cruel oil price, inflation, logistic interruption leading to shortage of supply sources. However, thanks to the advantages from the Group in ensuring gas supply for highest production capacity together with the internal strength and determination of leaders and employees, PVCFC continues to set challenging goals in 2022 to submit to the GMS, to be specific:
Main duties
1
Operating Ca Mau Fertilizer Plant and ensuring production of current products (i.e., Urea and NPK) in an efficient, safe, stable, and optimal manner.
2
Quickly deploying and putting energy-saving and optimization programs/projects into use to improve Urea and NPK production efficiency.
3
Researching to diversify sources of raw materials and fuels for Urea and NPK production to increase flexibility, initiative and sustainability in production and business.
4
Focusing on market development, distribution system and awareness increase of Ca Mau NPK in target markets, especially developing effectively in the Southwest market, bringing organic fertilizers to target markets.
5
Building a new business model to add value and improve production and business efficiency.
6
Creating preparations to improve fertilizer efficiency and specializing for plants based on Urea/NPK. There are at least 2 preparations applied on effective commercial products.
7
Continuing to implement and strictly comply with regulations on Covid-19 prevention of the Government, the Ministry of Health, central and local agencies, and the Group. Regularly updating Covid-19 developments, building safe adaptation plan and pandemic control to ensure that it is consistent with the Government's socio-economic transition process and the specific characteristics the Company's operations for performance improvement.
8
Implementing digital transformation, strongly applying information technology and building ERP system, ensuring consistency and synchronization with digital transformation and ERP of PetroVietnam.
9
Completing management system according to the best corporate governance practices to increase competitiveness and market value of Ca Mau Fertilizer.
10
Coordinating with PVN to restructure PVCFC in line with the Group's restructuring project for the period of 2021-2025 after being approved by the authority.
11
Following up competent agencies of the National Assembly to amend Law 71 in 2014 on making fertilizers subject to value added tax.
12
Continuing to build corporate culture to create environment and motivation for sustainable development.
PVCFC's plan targets for 2022
Production output
No.
Items
Unit
Planned 2022
I
Production output
1.1
Urea converted
Thousand tons
860.10
-
In which: Urea-based fertilizers
Thousand tons
80.00
1.2
NPK
Thousand tons
80.00
II
Business volume
2.1
Urea
Thousand tons
770.27
2.2
Urea-based fertilizers
Thousand tons
80.00
2.3
NPK
Thousand tons
80.00
2.4
Trading of imported fertilizers
Thousand tons
202.00
Financial plan
No.
Items
Unit
Planned 2022
I
Financial indicators (Consolidated)
1
Total revenue
VND billion
9,059.73
2
Profit before tax
VND billion
543.66
3
Profit after tax
VND billion
513.26
4
Obligations to State budget
VND billion
73.92
II
Financial indicators (Parent company)
1
Owner's equity
VND billion
6,447.03
2
Total revenue
VND billion
9,014.56
3
Profit before tax
VND billion
542.11
4
Profit after tax
VND billion
512.41
5
Pre-tax ROE
%
8%
6
Obligations to State budget
VND billion
67.73
7
Capital construction investment and equipment purchase
7.1
Total investment
VND billion
929.96
-
Capital construction investment and equipment purchase
VND billion
929.96
-
Capital contribution to member unit
VND billion
7.2
Investment capital source
VND billion
929.96
-
Owner's equity
VND billion
290.67
-
Borrowings and others
VND billion
639.29
Long-term investment and development plan
In 2022, the investment is focused on completion of transition projects, to be specific:
| No. | Items | To be implemented in 2022 |
| --- | --- | --- |
| 1 | Raw CO2 conversion and supply | Completing trial run for project acceptance and settlement |
| 2 | PVCFC's R&D Center | Completing land use right transfer procedures, preparing for investment and construction some technical infrastructures |
In addition, the Company focuses on investment in "Long An warehouse project", "Ho Chi Minh City Communication station Head office" while seeking opportunities for the projects of finding alternative sources of raw materials and fuels, diversifying products, investing in digitization for production management, building Data warehouse and procuring materials and equipment to ensure that the plant is always maintained in a safe and stable operation, to be specific:
| No. | Items | Purposes of researching and investment |
| --- | --- | --- |
| 1 | Long An warehouse project | At present, PVCFC is leasing warehouses that can meet the current sales volume. However, based on the development strategy, the Company needs to expand production and business and diversify products such as Urea, NPK, organic fertilizer, microbial organic fertilizer, and others. Thus, the demand for raw materials serving production and the production output will increase. Moreover, to be proactive, flexible and effective in sales, raw materials for production must be continuously supplied, together with the opportunity factor, PVCFC needs to have a warehouse for raw material and product storage. |
| 2 | Ho Chi Minh City Communication station Head office | With the Company's development orientation according to the strategic vision to 2025 to become a leading enterprise in fertilizer production and trading in Vietnam and Southeast Asia, it is necessary to consider and invest new modern and comfortable office to be worthy of a leading enterprise. |
| 3 | Coal gasification plant investment project | Implementing the strategy of studying and seeking alternative raw materials for the existing gas serving Ca Mau Fertilizer Plant, with the goal of reducing pressure from gas supply source, diversifying products and improving production efficiency. |
| 4 | Microbiological organic fertilizer plant | Organic fertilizer is an inevitable trend as per the development direction of the future agricultural industry towards sustainable development and increasing position, brand and competitiveness of the Company. |
Major solutions