TECHNOLOGY TRENDS AND ITS IMPACTS ON FERTILIZER INDUSTRY AND DEVELOPMENT OF PVCFC

INDUSTRY 4.0 HAS BEEN BRINGING SOLID TECHNOLOGY FOUNDATIONS FOR COMPANIES IN MANUFACTURING FERTILIZER AND IMPROVING PRODUCT AND SERVICE QUALITY, PROMOTING GREEN GROWTH AND SUSTAINABILITY FOR FERTILIZER INDUSTRY IN GENERAL AND PVCFC IN PARTICULAR.
DIGITAL TECHNOLOGY AND ITS IMPACTS ON FERTILIZER INDUSTRY
It is clear that big changes have been taking place at exponential growth day by day in hi-tech industries. It is of great importance and provides a significant support to improve and upgrade fertilizer business and production process from management to research, business, etc. specifically:
Cut operating costs, shorten production process, improve production capacity.
Diversified products with higher value and better quality serving bigger markets
Access to more customers in longer time with significant revenue growth
Working environment is much improved: data is collected, stored, handled and shared to support leaders to make faster and more accurate decisions thanked to timely and smooth reporting system, optimizing employee productivity.
Attract and retain customers thanked to improvement of product and service experience, strengthen competitive position in the market.

TECHNOLOGY FOR CREATIVITY AND INNOVATION OF PVCFC
At PVCFC, digital development has had impacts on 4 main businesses including customer experience, product - service, business - production and communication-media which have resulted in positive changes toward long - term development and sustainability on a journey to promote Vietnam agriculture development.
Digitalization on customer experience
2021 marked a breakthrough development of Ca Mau Fertilizer in digital customer service by launching "Al-created man" Ca Mau Fertilizer at "Vietnam Digital Human Day" event. This digital person is integrated with artificial intelligence (AI) in 3D image that can be able to interact with farmers as a professional "engineer" to provide consultancy on weather, livestock, crop, disease, etc. This is a promising brand representative to serve farmers and promote sustainable agricultural development. It is expected that PVCFC will integrate this "Al-created man" into "2 Nông" App to improve farmer experience.

PVCFC was accompanying customers to digitize product experience and improve cultivation efficiency
Product and service digitalization
Digital transformation trend associated with high quality fertilizers will promote the use of fertilizer with higher contents of nutrients, cost efficiency, health protection and cause no environmental pollution. In 2021, PVCFC's leading scientific experts have made efforts in successfully applying many technological achievements into business and production activities, step by step completing a comprehensive set of nutritional products for many plants including Ca Mau Urea, N46.Plus, N.Humate + TE, Urea Bilo Ca Mau. Especially, Ca Mau NPK Plant officially put into operation with modern production lines imported from EU and G7 has pioneered application of liquefied Urea technology and launched first Ca Mau NPK products to the market. These products help farmers increase the output, improve agricultural product quality, reduce fertilizer costs, meet various requirements of cultivation regions while ensure sustainable agricultural development.
The most critical features of mobile apps have made them better than mobile websites, development of user-friendly apps make it easier for farmers to seek, shop and interact with PVCFC. By grasping this trend, PVCFC has quickly improve its service quality through technology platforms such as "2 Nông" App, Ca Mau Urea App, Zalo, Ca Mau Fertilizer Facebook. As a result, PVCFC can collect user data for purposes of communication and product promotion in a more effective manner. At the same time, farmers will be also provided in-depth agricultural knowledge regarding farming practices, techniques of applying fertilizers and sowing seeds, assessing weather changes, etc. Besides, in case of necessity, the Company's leading expert team will provide online consultancy to farmers.
Digitalization on business and production activities
PVCFC has promoted digital transformation and successfully applied SAP Plant Maintenance (PM) Module integrated with SAP platform in replacement of CMMS. SAP PM has allowed PVCFC to manage maintenance requests and perform some repairs effectively. Besides, PVCFC has successfully applied other modules: incident management, equipment and technology change management, product quality management, Barcode SAP/ERP Integration in warehouse management.
With a network of thousands of distribution agents - close customers nationwide, PVCFC has implemented DMS (document management system) to maximize support for distribution channels, monitor activities of salesmen, inventory management and control, product coverage, liability, etc. By applying DMS has helped PVCFC to provide better products and services, timely meet customers' demand, improve the Company's competitiveness in the market.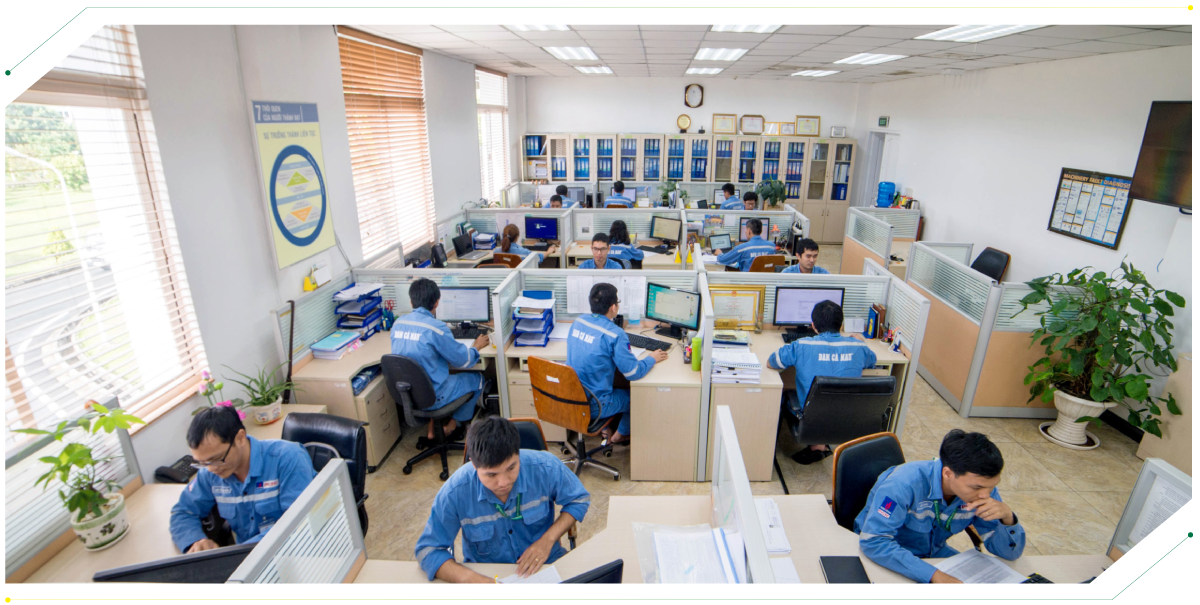 PVCFC has strengthened digitalization in business management to ensure good corporate governance and improve employee productivity.
Digitalization on business communications
Traditional communication channels are no longer ensuring delivering timely and accurate information to serve production process, inventory management and marketing activities, PVCFC has applied CRM (customer relationship management) software to manage and enhance the company's long-term relationships with customers. Based on CRM, PVCFC can be able to collect and access customer data, solve any simple complaint and dispute in the shortest time through automatic communications and customer care system, etc. to enhance the company's close interactions with customers, improve customer service quality, boost sales performance and increase revenue.
Besides, PVCFC has used SAP ERP, Eoffice, HRM, eLearning, Workplace, etc. to connect and integrate all functions across the company, improve corporate governance performance and optimize employee productivity.
DIGITAL TRANSFORMATION PLAN OF PVCFC 2022-2025
In general, technology innovation toward sustainability is an inevitable trend which is in line with new development trend of fertilizer industry. Not only does it create breakthrough changes for PVCFC but also bring positive impacts to stakeholders for Vietnam agricultural development. However, it also poses challenges for PVCFC, it requires each leader and employee to pursue new perspectives and innovative approaches ahead of big changes in today's scientific and technological revolution.
As a leading fertilizer production company in Vietnam, PVCFC is now ready for pioneering digital transformation in 2022-2025 period with specific plans as follows:
Complete Data Warehouse platform and connect App system on IT platform
Apply one of digital technologies including AI, IoT, Machine Learning, Big Data, Cloud to promote business and production process automation
Seek digital solutions for business and production activities
Upgrade SAP ERP system to S4HANA
Hopefully, with past experience, spirit of solidarity and high determination to turn upcoming plans and strategies into success, PVCFC will open a new decade of breakthroughs in IT application, bringing the company to the next height in the next journey.